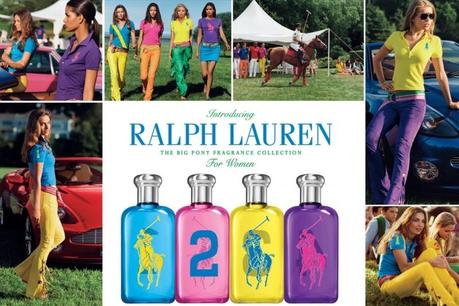 Ralph Lauren Big Pony Fragrance Collection
Ralph Lauren Music 4 All Animation
Ralph Lauren Big Pony Fragrance Collection
  is a bouquet of exciting fragrances for the iPod generation. These fragrances are presented in a new version going by the name "
Music 4 all animation
" cause with the purchase you will receive as a gift the portable speaker for your iPod: pink or purple for women fragrances, blue or green for the male ones.
Every fragrance has its own spirit #1 for sport, #2 for seduction #3 for adventure, and #4 for style. Each passion represents a number, which in turn represents a fragrance.
Women Fragrances:
Big Pony Fragrance 

#1 The first fragrance of the collection has a floral and citrus base to give it a sporty vibe. 

Big Pony Fragrance 

#2 The second fragrance is more sophisticated with  sandalwood, vanilla extract, marshmallow and musk tones as base and lily of the valley, magnolia and honeysuckle at the middle, the fragrance gets a sensual vibe thanks to the top notes of grapefruit, mandarin, guava and water lily. 
Big Pony Fragrance #3 has white amber and sandalwood base, a heart of mimosa and buttercup while pear and kumquat finish off this bouquet of scents. 
Big Pony Fragrance #4 has a sandalwood and purple amber base followed by a heart of magnolia flower and top notes of blood orange and watermelon .
My favorite is the Big Pony Fragrance #2 find out yours taking the test on 
www.lifeincolorquiz.com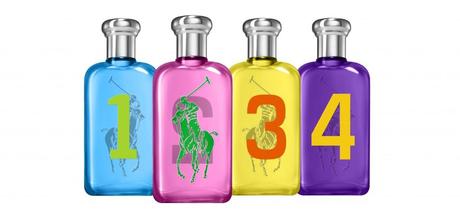 Ralph Lauren Big Pony Collection  è un bouquet di profumi per la generazione dell'iPod. Questi profumi sono presentati in una nuova versione dal nome "Music 4 all animation" perché con l'acquisto di una fragranza c'è in regalo un altoparlante portatile : rosa o viola per le fragranze femminili, blu o verde per quelle maschili.
Ogni profumo ha la propria personalità: #1 per lo sport, #2 per la seduzione #3 per l'avventura, e #4 per lo stile. Ogni passione rappresenta un numero, che a sua volta rappresenta una fragranza.
Le fragranze femminili:
Big Pony Fragrance 

#1 Il primo profumo della collezione ha una base floreale e di agrumi per dare un atmosfera sportiva.

Big Pony Fragrance

 #2 La seconda fragranza è più sofisticata con legno di sandalo, vaniglia  marshmallow e muschio come base e mughetto, magnolia, caprifoglio al centro, mentre le note di testa sono composte di pompelmo, mandarino, guava e ninfea.

Big Pony Fragrance

 #3 è composto da una base di ambra bianca e legno di sandalo, un cuore di mimosa e ranuncolo mentre le note di testa di pera e kumquat finiscono la composizione di questo bouquet di profumi.

Big Pony Fragrance #4

 ha una base fatta di ambra viola e legno di sandalo seguito da un cuore di magnolia mentre le note di testa di arancia rossa e anguria.
La mia fragranza preferita è la 
Big Pony Fragrance
#2, voi potete trovare la vostra facendo il quiz su 
www.lifeincolorquiz.it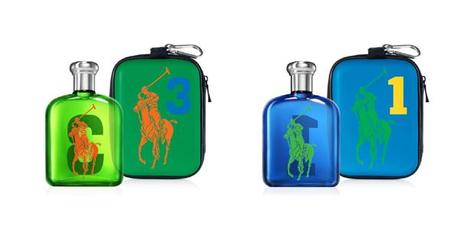 Ralph Lauren Music 4 All Animation for Him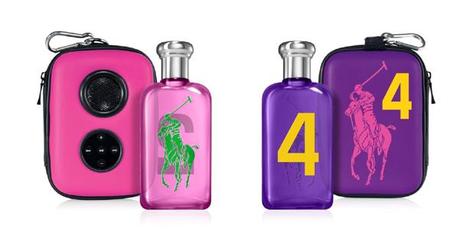 Ralph Lauren Music 4 All Animation for Her
Prices

/ Prezzi
Eau de Toilette 40 ml spray - € 40.00
Eau de Toilette 75 ml spray - € 55.50
Eau de Toilette 125 ml spray - € 72.00